Services at the Quest Bookshop -
Readings at the Quest Bookshop
Sundays, 1 PM - 5 PM
Mondays, 10:30 AM - 4 PM
Tuesdays, 10:30 AM - 3 PM
Fridays, 11 AM - 4:30 PM
(212) 758-5521
Featured in Esoteric New York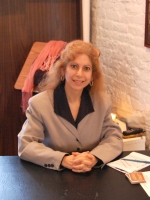 Angella offers a unique version of Tarot card readings: the Egyptian Cartouche, an oracle of ancient Egyptian magic. The Egyptian Cartouche is a divinatory deck, similar to the Tarot, but uses hieroglyphic symbols which are found in the pyramids and include an astrological element. Angella offers two types of readings:
The Horoscope Spread, which consists of 13 cards and gives you a forecast of a specific time frame relative to your character, money matters, work and career, love, business and other relationships, as well as a look at the subconscious and destiny;
The Star Spread, which consists of seven cards for guidance on specific questions, and helps to clarify a course of action or confirm your own knowledge of what you want and where your life is going.
Deck of choice: The Egyptian Cartouche.
Reason: When she first saw the deck over 20 years ago, it "spoke" to her immediately. She was given a copy of the deck a month later as a birthday present and found that initial connection to it confirmed.
Angella is also the founder of the Awakening Spirit Holistic Haven. You can reach it at the number above.